Without Colour you might as well be dead
Posted on January 09 2019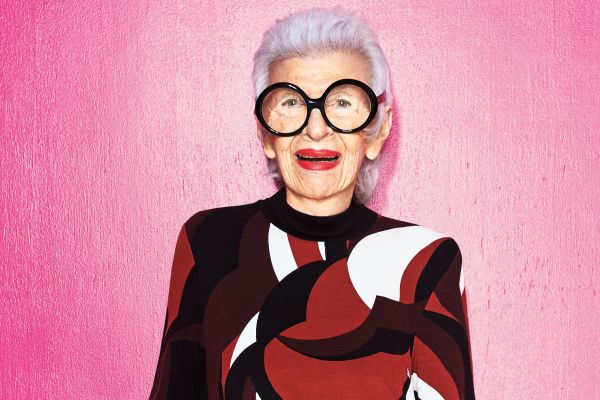 At Mantua Silkwear we are huge fans of style icon Iris Apfel. We admire her incredible energy, vivaciousness, style and most of all her courage to wear colour. She is now 96 years young.
"I like clothes that are amusing," says Iris. Fond of the 60s era, Iris's curated collection focuses on key wardrobe staples like shift dresses, A-line skirts, flare leg pants, and statement jackets inspired by pieces in her own wardrobe. "My favourites are the printed trousers, trench coat and the top with loops at the hem, " she admits.
Iris Apfel's wardrobe is full of personality and colour. Because without colour, "you might as well be dead," says Iris. "In the proper tonality, I never met a colour that I didn't like. But if I had to pick my favourite, it would be turquoise."
In keeping with her heavily accessorized signature look, Iris includes a wide array of stackable bangles and statement necklaces in various patterns, sizes and shades. Her secret to achieving the perfect stack? "here is no secret. Just do it. If it looks good, wear it. If it doesn't, change it."
For those that subscribe to the 'less is more' train of thought, Iris says "hat's their problem." She favours layering her clothes and piling on the jewels.
While a common shopping tip for building a great wardrobe is to splurge on foundation pieces and then sprinkle in trendier items, Iris disagrees. "Buy what you like," she says. "Don't worry about it. You're not going to wear it forever."
Make your own style rules
" don't know why people are dispensing advice and telling people what to do all the time. That's why everything is so boring,"she says. Iris doesn't agree with lists that dictate what's in and what's out, but she does have rules when it comes to fashion and age.
"here are a few things I think older women shouldn't wear," she says. "n older woman shouldn't wear minis, she shouldn't have long flowing hair and she shouldn't walk in high heels. You have to have sense. It's what's appropriate."
You simply have to find your own way
Here are 10 more secrets to success from Iris, we'd like to share:
1. Don't obsess over your age
"I never think about my age. Maybe that's the ticket. I never think about it — it's a passing thought. It's just a number. … I've found that work is very healthy for me. I love what I do and I put my heart and soul into it. You may not like getting older, but what's the alternative?"
2. Pick a partner who celebrates your successes
"Everyone he ever touched knows he was truly a Gentle Man," Apfel writes of Carl, who died in 2015 at the age of 100. "His humour and generosity were legendary. I miss him madly."

3. When something excites you, go for it
I never expected anything. I just feel things in my gut and I do them. If something sounds exciting and interesting I do it — and then I worry about it later."
4. To stay young, you have to think young
"If you want to stay young, you have to think young. Having a sense of wonder, a sense of humour, and a sense of curiosity — these are my tonic."
5. Care about your own opinion above anyone else's
"If you have to be all things to all people, you end up being 'nothin' to nobody.' The way I dress may be 'different' or 'eccentric' to some who feel the need to label, but that's of no concern to me. I don't dress to be stared at; I dress for myself. When you don't dress like everyone else, you don't have to think like everyone else."
6. But don't isolate yourself, either
"I have never been much of a conformist on any front, actually, and it hasn't hurt me yet in my ninety-some years, so I think I've been doing something right... Fit in first and then step out. There is a difference between being perceived of as original and being accepted, even loved for it, and being perceived as different and resented for it. You can have your cake and eat it, too."
7. Money doesn't buy success
"If you're happy, have found love, are surrounded by good people, doing what you like and giving back to others, that's success. Selling your soul for a buck is not worth the real price you pay — not to me, anyways."

8. Style is not about spending money
"Style is not about wearing expensive clothes. You can have all kinds of money and have no style at all. You can be dressed in the latest couture, shod in ten-thousand-dollar shoes and be baubled to the nines, and look like a Christmas tree," she writes. "It's not what you wear but how you wear it."
9. Start new endeavours with one small step
"You only fail if you do not try," says Apfel. "Sometimes you just have to take action, even if it is a small step. In my ninety-some years of walking planet Earth, I have applied this philosophy to living — and dressing — and it has never steered me wrong."
10. Don't pretend you are younger than you are
"There's nothing wrong with wrinkles. When you're older, trying to look years younger is foolish, and you're not fooling anyone. When you're seventy-five and you get a face-lift, nobody is going to think you are thirty."
If you have a few minutes, watch this video interview with Iris talking about life and style. "It's only one trip you might as well live it up! It's all about attitude!"
References and more about Iris Apfel:
https://www.cnbc.com/2016/09/07/95-year-old-fashion-icon-iris-apfel-says-the-only-successful-path-is-your-own.html
https://www.cnbc.com/2018/03/29/10-life-lessons-from-96-year-old-iris-apfel.html
https://www.theguardian.com/lifeandstyle/2018/aug/25/iris-apfel-fashion-icon-q-and-a-interview
https://edition.cnn.com/style/article/iris-apfel-hong-kong-interview/index.html