Silk Scarf Summer '18 Trends
Posted on August 13 2018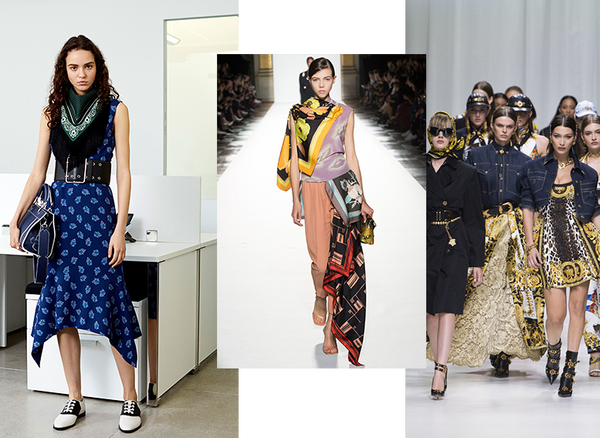 Scarves are among the coolest runway trends this season: From handkerchief hems to retro prints blown up on kaftans and skirts, the grandmother essential and the French-girl's go-to accessory was revisited by designers everywhere.
When pin-pointing the humble accessory's rise to high-fashion, it's impossible not to trace it back to Jackie Kennedy, who wore it neatly around her head and tied around the neck, matching it with the latest It bag of the time. Fast forward to the noughties: pop-culture dictated how we dressed. Beyonce showed us an all-new way to wear the silk staple. Remember the much-loved (barely-there) scarf top?
Now, almost two decades later, supermodel Bella Hadid is bringing it back. It's not just the supers though. Chanel's Resort 2018 show saw the scarf top make a comeback on a model clad in sandy-toned version, ready for the beach with a tie-around-the-waist sarong.
You could even spot iterations of scarves at Dries van Noten spring/summer 2018 – dangling off an asymmetrical skirt or morphed into slinky wrap dresses. At Altuzarra, scarves were deftly woven into the outfits and employed to line the jackets, adding a bohemian touch to an otherwise formal ensemble. The scarf prints were blown up to craft wrap dresses with tassels too. Alexander McQueen too played with teacup floral dresses and added a sense of whimsy to their structured bags with scarves.
Just when we thought all possible ground was covered, out came Versace's Spring/Summer 2018 Gianni Versace tribute with unabashedly glamorous (and very scarf-like!) prints.
We're just glad that this statement is back in all its glory – in peak summer too!
Text: Le Mill - Images © Alexander McQueen, Altuzarra, Dries Van Noten, Versace