The iconic accessory
Posted on September 19 2018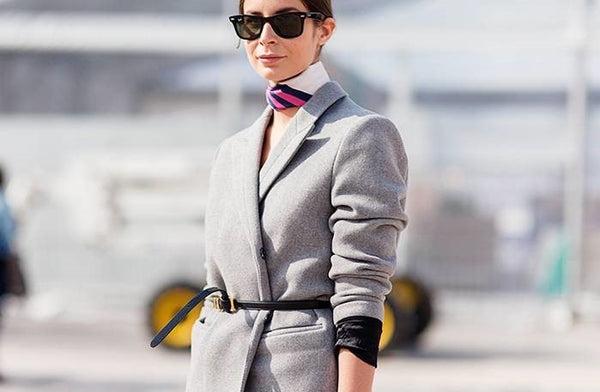 Silk scarves are the most powerful, iconic accessories. If you think the only way to tie a scarf is by draping it around your neck, we are here to show you an arsenal of looks to try this season. Check out how some of the most stylish women are wearing them right now. From cool ways to tie them around your neck to unexpected placement, there is no shortage of inspiration for wearing this fall essential. Scroll down and have fun!
Style Tip: For an unstudied feel, wrap your scarf once around your neck and leave it untied.
Style Tip: Swing a black scarf over one shoulder for an unexpected look.
Style Tip: Knot your scarf once on the side of your neck, and then let the sides drape over your front and back.
Style Tip: Toss one side of your scarf over your shoulder and unfold the front to create extra volume.
Style Tip: Fold your scarf in half, and tightly (but not too tightly) wrap it in a circle shape for a choker-like effect.
Style Tip: Wrap your scarf around your neck once and tie the ends in the front.
Style Tip: Circle your scarf loosely around your neck for an infinity look.
Style Tip: Do a babushka style with a cheerful printed scarf.
Style Tip: Tie a square scarf around your neck and leave the ends poking out to the sides for a French-girl vibe.
Style Tip: Simply knot a vibrant scarf around your wrist.
Style Tip: Drape the bulk of your scarf in front for a Western-inspired result.
Style Tip: Swap out your statement necklace for a scarf tied on the lower neckline.
Style Tip: For a fashion-editor look, simply tuck your scarf into your coat.