On Female Creativity in Africa
Posted on February 24 2019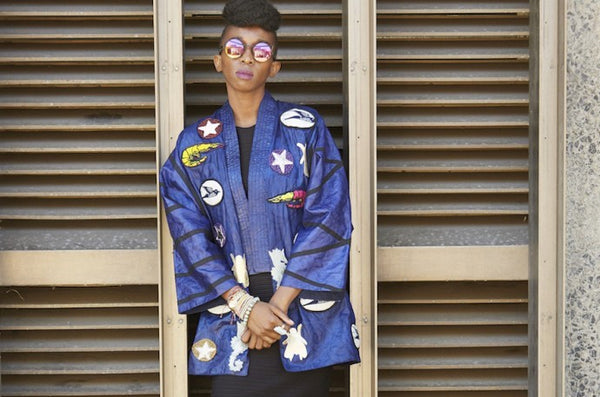 It's the week of Africa's leading design event, Design Indaba, right here on African soil and therefore we wanted to chat about the African continent and its abundance of talent, and especially female creatives.
In recent years, the diversity of African culture and creativity has received more attention world over. Many young (and even old) emerging African go-getters are carving their names on the books of history through their works. From writing to design and fashion, to movie-making, music and dance, these varied generations are exhibiting the diversity of African culture and creativity by reshaping narratives and developing a deeper understanding of our creative industries.
Literature
Over the years, African literature has elicited massive interest both locally and abroad. Starting off from the pre-independence literature to the contemporary, the writers have managed to tell stories of a continent that is ethnically and culturally diverse, yet still holds almost similar challenges and successes. Most of the renowned and/or widely read authors have written on several issues ranging from social and cultural issues, women's rights and feminism, to post-war and colonial identity, as well as conflict and conflict resolution issues. The list of African writers is long, and here we look at two of those writers who have managed to exhibit African diversity through their literary works.
 Imbolo Mbue
In her debut Behold The Dreamers, Imbolo Mbue illustrates the immigrant experience in America's compassionate astuteness. Just like Jende Jonga, the main protagonist in her book, Imbolo Mbue is an immigrant to the United States sponsored by her relatives back in Cameroon to study in United States.  The book has sold millions of copies and has won Mbue various awards, including the 2017 PEN/Faulkner Fiction Award.
The list of new generation African writers are taking the literary world by storm and would not be complete without the inclusion of Chimamanda Ngozi Adichie. Born in 1977 in Nigeria, her works are primarily character-driven, interweaving the background of Nigeria and its social and political events into the narrative
Fashion
The fashion industry in Africa has witnessed tremendous growth in recent years. The global demand and discussion on African-inspired fashion has led to incredible sales for some African designers and brands. The boom in African fashion has caught the eyes of international celebrities including former US first lady, Michelle Obama, Rihanna, Beyoncé, among others. The growth has been spurred by various young fashion designers and entrepreneurs who are now partakers in the billion-dollar industry.
One of the most vibrant fashion industries on the continent is Nigeria's industry. With a population of over 180 million, Nigeria's fashion has always been diverse, reflecting its many ethnic groups, religions. and cultures.
Individuals who are exhibiting the African diversity in this industry include Folake Folarin–Coker, who is the creative director of Tiffany Amber. She was the first African designer to showcase her designs at New York Mercedes Fashion Week for two consecutive years and has also been listed by the Forbes Power Women in Africa list.
The name Zizi Cardow is widely known in fashion circles across the globe thanks to her talented creations which reflect the style and spirit of her country, Nigeria. Cardow's designs have graced numerous fashion shows in Africa and beyond, and she has also received various awards.
Besides Nigeria's vibrant fashion industry, South Africa is also leading the way in making the continent the hotbed of style and mind-blowing fashion designs.
 Marianne Fassler 
Marianne Fassler is a well-known name in the South African fashion industry and rightly so, as she's spent more than three decades in the business. Fassler opened her first store in 1976 and today her label, Leopard Frock, is based in Saxonwold, Johannesburg. Her designs offer creative, beautifully made clothing items and she's well known for her unique wedding dresses.
Loin Cloth & Ashes was launched in 2008 by Johannesburg-based fashion designer Anisa Mpungwe, who designs modern clothing with an African twist. Her items are all inspired by African traditions and the people that inhabit the country. In 2010, Anisa showed at the Mercedes-Benz Fashion Week in New York and her store in Maboneng is perfect if you're after a stand-out outfit.
 Amanda Laird Cherry 
Amanda Laird Cherry is a much loved South African fashion label that produces beautiful apparel for both women and men. Durban based designer Amanda studied clothing design and gained ample experience in the industry before launching her own label. Her items have been exhibited at London Fashion Week. 
And these are some other South African brands I admire: Dear Rae, Pichulik, Sindiso Khumalo, Laduma Ngxokolo of Maxhosa, Rich Mnisi, Henriette Botha and Nicholas Coutts.
 Katherine Pichulik
Another young emerging South African designer is Bongiwe Walaza. Walaza attributes her expertise to her mother who was a seamstress. Her dynamic style of radical patterns has gained her a huge following both locally and internationally.
Contemporary Art
The contemporary art scene on the continent is characterized by a dynamic list of outstanding individuals whose artistic inventions and abstract insightfulness has created a way for the next generation of artists. The artists have stamped their position by using their talents and pieces to interpret and portray Africa's social and economic aspects of our day-to-day lives, political challenges, wars, conflicts and peace, culture and traditions, the diverse African beauty, as well as other issues that reflect real life on the continent. We are just mentioning two here:
 Tony Gum
Tony Gum: This contemporary artist was dubbed by Vogue as the 'coolest girl in Cape Town'. Gum's entire image is carefully curated, reflecting references from international and local pop culture; and she sources inspiration from social media, film and fashion. Gum is also co-founder of The Local Collective, where you'll find videos on everything from travel to fashion.
 Zanele Muholi 
Zanele Muholi: Zanele Muholi has been a prominent name in the art world for many years now. This photographer and visual activist has explored themes of gender, identity and sexuality with such intimacy, that her art has been exhibited with critical acclaim both locally and internationally.
Creative Female Entrepreneurs
These women have not only contributed to their field – be it entertainment, media or business – but have also empowered other women in their countries. Africa has a long legacy of powerful and inspiring women who have helped shape our country. Let's name Mauritian president, Ameenah Girib, supermodel Iman and actress Lupita Nyong'o.
 Bonang Matheba 
Bonang Matheba: South Africa's darling, Bonang Matheba is a media personality and stole South Africans' hearts over her many years on television and radio. She is now one of the most recognised faces in the country; and has been described as the queen of South Africa's social media.
 Rapelang Rabana
Rapelang Rabana: From a young age Rapelang Rabana knew she wanted to be an entrepreneur. She is also a computer scientist, who graduated from the University of Cape Town. After that there was no stopping this remarkable woman, founding the company Yeigo Communications and starting a second, Rekindle Learning. She is now considered to be one of the most important South Africans working in the technology and digital space.
These women are but a few examples of South Africans leading our country to new heights, inspiring us with their talents, whilst using their resources and influence to empower and uplift women from their own communities and the country in general.
Making it South Africa
Just this week Brand South Africa is launching a new campaign focusing on local entrepreneurs in the creative and design space, who have turned their passions into successful enterprises.
With the aim of inspiring the nation to support local creative industries, "Making it South African", showcases young and established entrepreneurs who have been influenced by their unique heritage and culture to tell the story of the country through creativity.


"The importance of showcasing these individuals puts the spotlight on the country's creative and multi-skilled craftspeople," says Brand South Africa's Acting CEO, Mrs. Thembi Kunene Msimang. "It also encourages more of us to buy locally produced products, which results in job creation and a strengthened economy."

Design Indaba 2019
So, it's time for the Design Indaba Conference in Cape Town next month – which has developed from small beginnings into the best creative conference in the world. Here is a list of the incredible, talented women leading the charge this year.
  Ane Crabtree and Miriam Kamara
Conference attendees are privy to the absolute vanguard of the industry, experiencing the work, ideas, thought leadership and design thinking that permeates a cross-section of current creativity. It's all about how creativity is creating a better world.  
Conclusion
As a female entrepreneur in the fashion world it is not an easy journey but there are plenty of networks and resources out there where we women can share knowledge, skills, or lend a shoulder when things get tough.
One network I would like to mention is Lionesses of Africa – it is an amazing network of powerful women who are running incredible businesses as well as young entrepreneurs who are starting out with a vision and ambitious goals.
Lionesses of Africa is a social enterprise working to advance Africa's women entrepreneurs, by building and delivering entrepreneur development programmes, mentoring programmes, business tools, digital media channels, community platforms, networking events and information resources. Delivered at scale to women entrepreneurs, always free of charge. Lionesses of Africa has over 600,000 users across 54 African countries and also reaches tens of thousands of users in the Diaspora in Europe and North America. It is on target to reach the goal of empowering ONE MILLION women entrepreneurs across Africa.
Check out the website and all the resources and stories and join this powerful group of creative African women of the 21st century.
References
http://www.marieclaire.co.za/latest-news/okayafrica-names-top-women-in-africa-find-out-which-south-africans-are-on-the-list
https://www.africa.com/diversity-african-culture-creativity/