Caring for your silk scarf - and storing it correctly
Posted on September 12 2018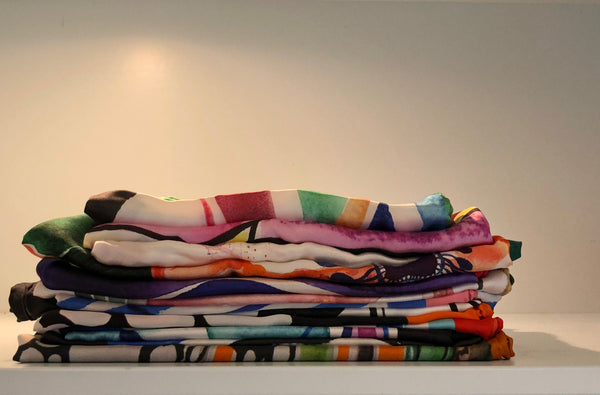 Silk is an investment. It's a fabric that should be bought with a long-term relationship in mind. For example, a Mantua scarf is trans-seasonal and beyond quick trends. We believe in the slow fashion movement, where items are made with care and sustainably. Proper care and storage will help keep your investment pieces relevant beyond a season. And how you store, wear and wash your silk will also help the longevity of your silk's life. That's why, when talking about caring for your silk we're talking about the whole 360° approach.
When it comes to washing your silk scarf leaving it to the experts at the dry cleaners is the absolute best way to extend the life of your silk and keep its subtle lustre and delicate hand feel (especially if we're talking stains). However, if you ever find yourself in a jam or want an at home way to freshen your silk, then here is how you can safely hand wash your favourite scarf.
Hand Wash
You'll want to make sure to read the detergent label before using it on your silk. Words like "suitable for silk" and "delicates" are your best friends when it comes to washing silk by hand. Bleach will damage your silk's fibres so it's always a big no.
Place your silk scarf in cold water with a mild silk-friendly detergent.
Leave to soak (no more than 5 minutes).
Swish the scarf slowly and gently.
Rinse with fresh water
To help keep its hydrated feel, use a fabric conditioner in the final rinse (or even a small amount of hair conditioner).
Rinse well in cold water.
Ball your scarf together to remove excess moisture (wringing your silk out will damage it's fibres). Then lay it flat and roll it in a towel to absorb any lingering moisture.
Lay flat to dry.
Wrinkles and Creases
Most wrinkles in silk can simply be steamed out, but not everyone owns a steamer. A great steamer hack is to hang your scarf in the bathroom and let it steam while you take a hot shower.
If you can't steam the creases out then here are a few tips on how to safely iron your silk:
Set the iron to low heat (or the silk setting).
Iron silk only once it's dry and be sure to put a cloth between the silk and the iron.
Do not spray or wet silk while ironing, you may get water-stains.
Storing
To avoid ironing, the best solution for your silk is to store it by hanging it in a cool dry place. Silk creases so it's best not to fold or leave it bunched up for long. If you're storing your scarf for a long period of time then make sure it's clean and stored in a breathable fabric bag (avoid plastic ones because they lock in moisture). Another tip for long-term storing is to store your silk scarf away from the sun to avoid fading the colour and weakening the fibre. Silk is a protein, this means it can attract moths so, if you add a natural moth repellent into the bag your scarf will be sure to thank you.
The 360° Approach
At Mantua, we think it's important to look at all your fashion pieces from a holistic approach, all 360° of it. Consider how you store, wear and wash your silk scarves as well as your other clothes and know that by buying less, buying better and making our clothing last – we're all helping to reduce unnecessary waste. It may seem like a simple concept but keep in mind, every step forward towards sustainability, is a step in the right direction.
Here are the Don'ts and Do's in a nutshell
Never overlook the care instructions
Sad to say, but most people end up making this mistake. Overlooking the care instructions because you're too lazy or too busy to do so may cost you a fortune especially if your scarves are made of silk.  Always, as in, always, read the care instructions provided before doing anything. That means if the label says "Dry Clean Only", then be sure to take your scarf to the cleaners.
Don't put your silk scarf in the washing machine
Scarves that can be washed will hold up longer if you hand wash them instead of putting them in the washing machine. Silk, in particular, requires gentle washing to keep its fibers intact.
Do not wring, twist, or rub the silk scarf while washing
It doesn't take a genius to know that silk is a very delicate fabric, hence, you have to wash it gently. That basically means you should never wring, twist, or rub the silk scarf if you want it to maintain its shape and keep the fabric intact (silk fibers can loosen when compromised). Squeezing out the water gently is one way of drying the scarf. But an even better way is to lay it flat on a dry towel, then press and roll the towel to squeeze out the water.
Never put your scarf in the dryer
Of course, you shouldn't put your silk scarf in the dryer. Why would you? Intense heat can make silk lose its lustre and possibly shrink. Not only that, but it can also cause the fibers to break. Air drying your scarf is always the best option because it is the most gentle. But be sure not to make mistake number 5 below.
Never expose to direct sunlight
Again, intense heat can damage the silk fibers. Plus of course, there's the fact that direct sunlight can make a fabric lose its colour.
Never use harsh chemicals on your scarf (bleach, perfume, etc.)
Harsh chemicals can compromise silk fibers and can even cause stains or unwanted spots. That's why it's always best to keep the bleach away from your scarf when washing it. And always remember NOT to spray perfume onto it too.
& 8. Don't iron your silk scarf when it is dry AND Don't iron on high heat
If you must remove wrinkles on your silk scarf, never iron it while it is dry. Iron while damp. Don't spot damp either, as these could create circle or round marks that are ugly. Lastly, never use high heat when ironing silk. Make sure iron is set on 'cool'.
Don't wash with other colours
Just to be safe, never wash your silk scarf with other colours for two simple reasons, you don't want other colours to bleed into your scarf, and neither do you want colours from your silk scarf to bleed into other garments or scarves that you wash it with.
Never store your scarf in a damp place
As you know, silk is a natural fiber much like wool. That means it is prone to deterioration and moths. Please don't use mothballs to save your scarves because they will smell terrible afterward.
Instead, keep them in airtight containers or boxes that are clean and dry. Also, you can try using natural lavender sachets that repel moths, if you have to. You may also hang your silk scarves, but make sure the area where you will hang them is clean, dry, and airy.
In general, the silk scarves you buy from a lot of fashion labels today are actually more resilient. They are also tougher, thanks to better manufacturing technology. However, it is always good to be safe than sorry — especially since designer scarves are not cheap but an investment into your wardrobe for many years to come and an heirloom you would want to pass on to your daughter one day.
Mantua scarves come in a silky pouch - ideal for storage.
Sources: https://www.grana.com and https://scarf.yournextshoes.com