Harvest Moon Collaboration with Pichulik
Posted on May 28 2019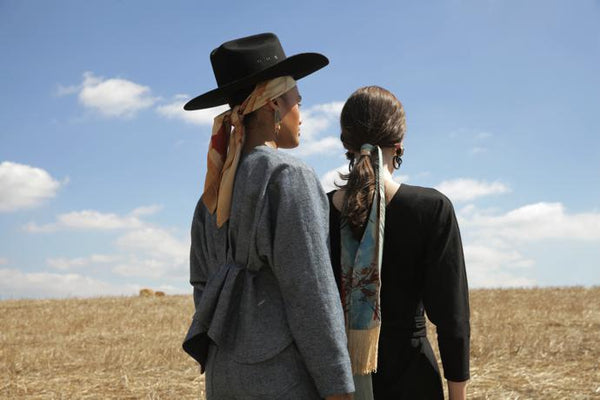 We were recently chosen by one of Cape Town's leading designers Katherine Pichulik to collaborate on their fall collection called Harvest Moon Collection.

The Harvest Moon collection which includes jewellery and other accessories could be seen as an adventurous spirit of a young woman seeking self-expression. Katherine explains: "I started to question what rebelliousness, anger and toughness looked like in femininity. I imagined Thelma and Louise, badass horse-riding heroines and cowgirls romaing the Western Cape from the Boland to the Karoo in search of their own self-made identities."
Other collaborators included Pichulik by Nadja and Thalia Strates Accessories. The collection was launched in May.

For the Harvest Moon collection I designed two limited-edition silk scarves. Taking inspiration from the Harvest Moon narrative and the female body clock's cyclical lunar rhythms, I used diluted water colours and tea to hand-paint Demeter (Goddess of the Harvest) and Gaia (Goddess of the Earth).
The collection is available at the
Shop.Collective
in Kloof Street, the Pichulik Watershed store in Cape Town, the GUILLOTINE shop at 44 Stanley in Johannesburg, at
Pichulik online
 and soon in our online shop as well.
I would love to do more collaborations with other designers. Please drop me an email anytime: juandi@mantua.co.za

Credits: Campaign: Alix-Rose Cowie @alixrosephoto, Film + Video: Cate Rochat @caterochat, Hair & Make-Up Amori Birch ​@amoribirch, Super Nova Creative Management Supernova Creative Management, Models: Amy Greener @amycgreener Boss Models Boss Models South Africa, Lisa Philander @lisa_philander Fam Jam Model Management @fanjam_model_management, Fusion Models @fusionmodels_ct Patricia Laloyo @patricialaloyo