Going wild: Animal prints are making a come-back
Posted on December 14 2018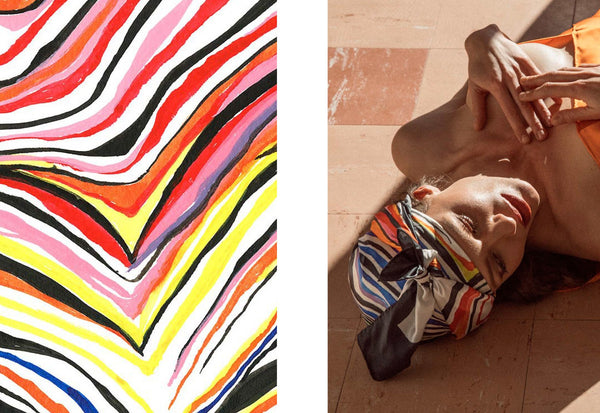 .... – or have they ever been out of fashion?
Women have gone wild… Usually, once a look has been so thoroughly mainstreamed it would be declared dead and over by the editors, bloggers, influencers and fashion buyers who have helped make it so chic, so desirable. Not so for animal power. Everyone seems to be wearing it: the older, the younger, the cool, the less-so. More is more, but why?
History of Leopard Print
In Fierce: The History of Leopard Print (Harper Design), the author Jo Weldon runs through a potted history explaining the allure of animal skin from the post-war 1920s to Dynasty and Debbie Harry's 1980s – a cycle of glamour, trashiness, transgression and back. To Weldon, it is obvious why women would keep coming back to spots and stripes. "The pattern designed to help these dangerous animals blend in [to their environments] was one that a woman used to stand out," she notes. And so this woman is "not necessarily saying that she is a predator, but she sure isn't prey."
At a time when female sexuality, power and vulnerability have never been more talked about, there is a comfort in this subtle, subconscious subversion. Animal print retains a gratifying edge. In his 1954 manual, The Little Dictionary of Fashion, Christian Dior famously wrote that "to wear leopard you must have a kind of femininity which is a little bit sophisticated. If you are fair and sweet, don't wear it." And so the connotations have always been that it's sexy, a bit raunchy, a bit daring, a bit wild.
A wardrobe perennial
Yes, women can wear leopard-print blouses to the office and can add animal skin on shoes, handbags or a well-wrapped scarf. It is a print that has gone beyond being a current fashion statement to establishing itself as a wardrobe perennial. Elegant, knowing, arch – and as stylishly savage as it gets.
Cast an eye around and watch the safari-load of animal prints on show: cheetah, snake, tiger and yes, the sleekest of them all: the leopard. Where before coats and shoes had the fashion monopoly on animal prints, allowing women to gently accessorise their way to the jungle, now entire wardrobes are rotating around animal skirts, animal shirts, animal tights, animal shoes and, of course, animal scarves. Sometimes all at once.
The new styling rules
Treat animal prints as your new neutrals by adding them to your everyday outfits alongside colour-block sweaters and classic 

trench coats.

Mix and match – the most modern way to wear animal prints is to clash them.
This is one instance where more really is more, so take your styling cues from Bella Hadid and Giovanna Battaglia Engelbert, and work it from head to toe.
Leading the Fashion Pack
Of course, the fashion lot has been telling us this for months: leopard print never really went away: take a look at Tom Ford's sublime collection, Réalisation's leopard Naomi skirt, Reformation, & Other Stories and Zara. 
At AW18 in February, Victoria Beckham stole the show with her belted leopard-print trench coat, which was inspired by super heavy Venetian upholstery fabric and fashioned from chenille jacquard – bringing a slice of the '70s to 2018, leading the way for an exotic animal revival.
From Gucci's Mrs Robinson-inspired coat and matching pillbox hat to Dolce & Gabbana's head-to-toe looks, leopard print – in particular, a strong coat or jacket – is an investment piece that feels both enduring and contemporary. We won't be stopping there, though. Zebra print, a formerly garish relic of the '80s, returned with wearable force this season, with designers like Adam Selman, Balenciaga and Zadig & Voltaire turning out the black and white stripes on the catwalk.
Colour
It is not just natural colourways that are grabbing our attention: there's acid yellow snake, electric blue tiger, and lime green zebra to consider. "The strongest and most prevalent trend is animal prints and not any one in particular – they are officially neutrals and every woman needs an animal-printed piece of outerwear for starters," Natalie Kingham, fashion and buying director at Matches Fashion explains.
Roberto Cavalli's deep red zebra coat and Prada's yellow zebra jacket are inspiring the outerwear. Snakeskin, too, is more vivid in colour this season; yellow, orange and green lead the way. The print screams '70s rock 'n' roll but electric shades give it a thoroughly modern refresh – just look to Marni's half black, half green belted jacket, or Collina Strada's baby blue number.
The high street, too, is awash with animal print this season, meaning you're spoiled for choice. From Zara's high-shine snake jacket and trousers co-ord to Topshop's zebra tote, you can go head-to-toe or simply dip into the trend. Whether you stick to timeless pieces or embrace wilder colourways, animal print will remain at the top of the food fashion chain for quite some time. Check out guides on how to correctly clash your animal patterns to get ready for Autumn's hottest looks.
Mantua's Safari Style
When it comes to fashion trend we are certainly in sync with the world. Read this lovely feature in Safari News, hot off the press. And if you love our Zebra stripes and flamboyant Flamingo, watch out for Mantua's new animal print range coming soon. Here is a sneak preview of what's in store.
References:
https://www.net-a-porter.com/gb/en/porter/article-cd39bbc0d1fabb14/fashion/art-of-style/animal-print
https://www.theguardian.com/fashion/2018/oct/21/women-go-wild-for-leopard-skin-to-show-they-are-not-prey
https://www.missguided.eu/shop-by-trend/animal-print
https://www.refinery29.com/en-gb/animal-print-trend-2018