Getting to know Juandi Andrag
Posted on October 11 2018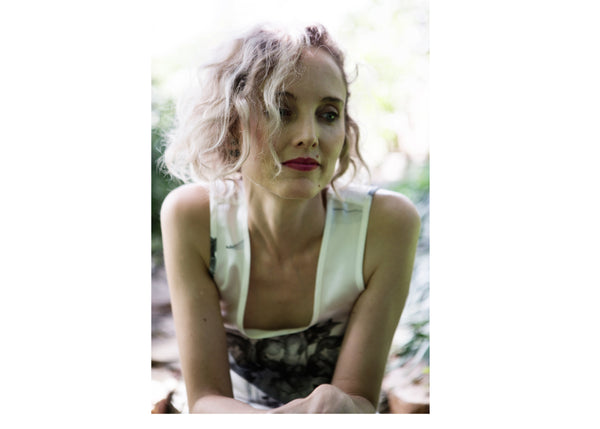 As the 2018 Sanlam Handmade Contemporary Fair finished on Sunday with great succes, we thought you might like to learn a bit more about the person behind the Mantua brand: Here is Juandi Andrag, founder and designer of Mantua Silkwear, talking about her inspirations and challenges, trends and some advice for other designers starting out on their own:

Tell us a bit about yourself and the people behind your brand?

I worked as a food stylist before studying fashion at Elizabeth Galloway Academy of Fashion Design in Stellenbosch. Currently I work from a home studio in Stellenbosch. I operate as a 'one woman show' and make use of a local seamstress on a freelance basis. I am inspired by the interplay of colour and pattern in everything around us and what it means to us.
I find inspiration in words, poetry, music, movies and art, specifically the colour associated with a certain piece and the movement visualised by it.

What does 'a return to making' mean to you?
A 'return to making' starts with considered slow fashion. Knowing the true value and quality of the silk I use. Making sure the weight of fabric, density of weave and luminosity is of the highest quality. Producing scarves in small quantities that are unique and tell a story which one can relate to, or which evoke a feeling by means of colour.
Return to making also means being in charge of all the processes from design to manufacture, whether it is designing, painting or sewing. Basically, using your hands to 'make' and to experience the product in a tactile way while manufacturing.
Describe the most exciting part of your creative process in the making of your product.
Drawing and painting are the most exciting because they determine what stories are to be told or unfolded through the expression of colour and shape in the soft folds of silk. Also visualising a one-dimensional image on a light-reflecting silk surface to be draped and knotted inspires me.
Your design process starts with ….
The design process is triggered by mood or colour and the need to express thoughts or feelings, planned or unplanned. On a practical level this would be an ink drawing, watercolour painting, collage or even a piece of writing. It is then developed further into a design with a colour scheme. The process is then driven by an intrinsic awareness of colour, space and shape, and of the body as canvas for wearable expressive art and how silk fabric transforms to the body and drapes.
What do you do specifically with silk?
I paint watercolour artworks which is then printed on limited edition hand hemmed silk scarves. Parallel to that I also physically paint on silk for exclusive one-of-a-kind scarves. I use silk as a medium to tell expressive colour stories because our clothes and adornments essentially communicate who we are. Colour hones in on what we feel and even the smallest splash of colour can change your mood.
For centuries, scarves have been worn for traditional, cultural and religious purposes and also as protection and adornment. Today, we still wear scarves for those reasons. A silk scarf is considered a timeless accessory which can be knotted, draped and worn in many ways and if cared for properly lasts a lifetime.
How important is materiality in your process? Is your process lead by design, materials or both?
The qualities of silk as a fabric is very important as it affects the feel, drape, light reflection and colour absorbency. So, yes the process is driven perhaps more by the qualities and reaction of the silk to colour then the other way round.
A scarf is a very personal piece of clothing as it is mostly worn very close to the skin; around the neck. It is possibly one of the softest fabrics known to man and has a luxurious touch against the skin, not to mention that it works well on skins that are hyper-sensitive.
Silk is a natural fiber, both insulating and breathable, with a unique light-reflecting prism structure. Tying a soft silk scarf around your neck is an indulgence known to those who invest in real silk, which pays off every time you wear it.

What's been the biggest challenge with keeping you going?
Self-motivation, having to do large chunks of the work on my own and coming to terms with all the aspects of running my own business.

How do you measure your company's growth?

I measure my company's growth by its sustainability and ability to grow organically. When people fall in love with a scarf story or colour combination on a scarf then I succeed and can move forward, because what I do is very much an extension of who I am and although one needs monetary sustenance to succeed, it is the human interaction that allows growth.

How do you tackle upscaling of your business?

I would like to branch into light printed silk kimonos or kaftans, pillowcases and textile design. I would also like to establish a network of small boutiques to stock Mantua scarves because they believe in the brand's philosophy about quality and uniqueness.

What's your advice for other creative entrepreneurs?

Get as much advice from everyone who knows better than you and is a specialist in their field. Then draw from that what you need, follow your gut and finally trust the slow creative process patiently. Very patiently.

What trends are currently impacting your industry, both locally and globally?

Coincidentally the scarf trend for SPRING /SUMMER 2018 is huge internationally but morphed into garments in the form of handkerchief printed silk scarves in bold colours as part of blouses, dresses and skirts. The scarves are draped, pleated, knotted, sewn on or part of the structure of garments but still very visible as silk scarves. The trend can be seen in Dries van Noten's S/S 2018 Collection, Jacquemus, Ferragamo and Richard Quinn.
Locally there is now more awareness of silk scarves and many new scarf brands around, all with their own unique identity. There is a point where art and fashion overlap. Many artists have their work printed on silk scarves. Beautiful silk scarves can also be framed behind glass and gives a very different look than an ordinary painting due to the light reflecting structure of the silk.