Fashion Revolution - Who makes your clothes
Posted on June 07 2019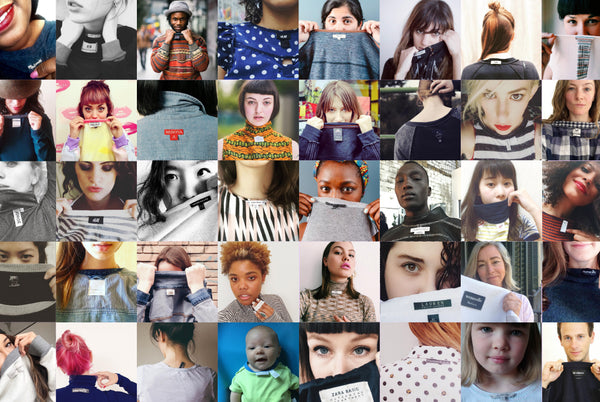 Fashion Revolution is a global movement which campaigns for systemic reform of the fashion industry with a focus on greater transparency in the fashion supply chain. The movement calls on brands to answer the question Who Made My Clothes? The campaigning organisation Fashion Revolution is working to end exploitation in the fashion industry.
Fashion Revolution Week is now celebrated annually in over 90 countries worldwide during the last week of April and April 24 is the day that commemorates the tragedy when in 2013 the Rana Plaza collapsed in Dhaka District of Bangladesh and left more than 1100 workers dead and 2500 injured. The day keeps reminding the fashion industry of the dreadful conditions that many people in the garment industry were working in - and still are.
The week is an opportunity to celebrate fashion as a positive influence, raise awareness of the fashion industry's most pressing issues, show that change is possible and celebrate those who are on a journey to create a more ethical and sustainable future for fashion. Every year it rallies the high street, the high end, the innovators, the media, the public, the activists, the makers, the wearers – and everyone in between. During Fashion Revolution Week people around the globe are encouraged to ask fashion and clothing brands 'Who made my clothes?', using the hashtag #whomademyclothes. 
The global community is made up of thousands of passionate Fashion Revolutionaries. With over 70 coordinators across the globe and hundreds of team members. While some teams such as Brazil and Australia have been with the movement since the beginning in 2013 and are continuously expanding and excelling, the network is constantly growing with recent additions of Laos, Kenya and Mauritius.
This year saw a staggering number of events across the world, as well as a high level of engagement across social media.  Here are some of the campaigns this year.
South Africa
On the South African team, headed by co-ordinator Tammy Nicol, you find some very big names from the designer world, including Katherine-Mary Pichulik, Jasper Eales, Paige Mary Garbutt and many more. Check out the whole team here: 
If you are a brand, wholesaler, retailer, or distributor, there are many ways you can get involved with Fashion Revolution throughout the year and help transform the industry by demonstrating transparency in your supply chain.
For more information contact the local team at southafrica@fashionrevolution.org.
For general information and teaching resources, read the Fashion Revolution blog post by Nikki Mattei, or visit http://fashionrevolution.org/education.
Images: @Fashion Revolution