Inspired by Art and Fashion
Posted on October 02 2018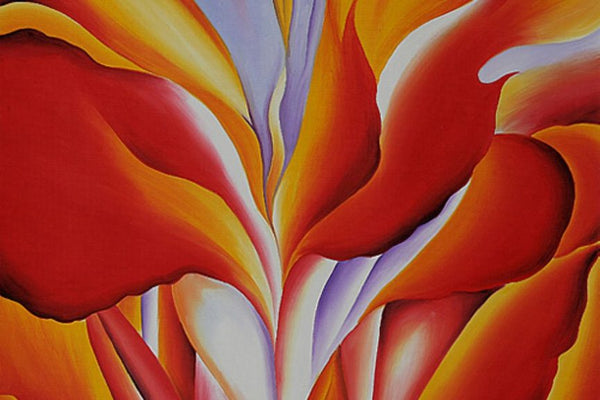 By Juandi Andrag

Mantua scarves are inspired by the collision of fashion and art.
The feelings evoked by the movement of colour into form and shape and the stories told. 
This is a concise description of some of the major names in art and fashion that I look up to. I am a definite fan of American post-war Expressionism and draw inspiration from these artists:
Helen Frankenthaler: an American abstract expressionist painter. I love her work for the fluid freedom she uses to express emotion through colour with naïve spontaneity.
Georgia O'Keeffe: She is the Mother of American modernism. Her sensual feminist approach of using flowers as symbols is unique and so is her bright use of emotive colour. She said, "…it is only by selection, by elimination, and by emphasis that we get at the real meaning of things."
Mark Rothko: This Russian - American abstract expressionist has a very soft emotive way of melting colours into one another and becoming one in his late works, the "multiforms" of colour panes on huge canvasses. His journey and philosophical depiction of life through colour inspires me over and over.
Clyfford Still: Another American abstract expressionist who invigorates thought through the harsh definite movement of colour and shape, especially the planned and unplanned haggardness of colour.
Alexander Calder's work has it all for me: the literal movement of organic shape in colour provoking thought…
Henri Matisse: Later in life he started to work on colourful paper cut-outs. His magical use of vibrant contrasting colours and organic shapes arranged into evocative stories that nobody can deny is miraculous and will always be.
Gustav Klimt: Klimt is the first artist I ever admired and my obsession with him started when I was 16 years old. Early on already I felt inspired by his delicate depiction of female fragility always in contrast with female strength and power. His art is highly decorative and I always loved how he created surface pattern and painted fabric in his Art Nouveau style.

Fashion Inspirations
When I turn to the fashion world for inspiration, these are the designers I go to, who are in turn artists themselves who chose fabric on the body as their canvas.
Dries van Noten: His buoyant use of bold clashing print, often on silk, always charms me. There are no rules in his work and I find the way he works with contrasting cuts, colours and prints thoughtful and stimulating.
Mary Katrantzou: I love her confident bright, bold print – it's highly embellished and so decorative. We all need a bit of her "more is more" attitude.
KENZO: Kenzo (after Kenzo Takada) brings East meets West influences to the surface. The brand always inspires with fun prints, blended with ethnic elements and flowers to create a street glam look. They have a vision of creating clothes for people who are not afraid of wearing print and colour!
Maija Isola for Marimekko: Maija Isola created timeless retro classics, which will always be relevant. Who cannot be inspired by her world famous textile design called "Unikko" (poppy). She used colour unashamedly and created inspiring textile designs that created a sense of happiness when looked at.